About Us
Greater Potomac Retina
Greater Potomac Retina specializes in medical and surgical diseases of the retina, vitreous, and macula. Common diseases that are treated include Age-related Macular Degeneration, Diabetic Retinopathy, Retinal Tears, Retinal Detachments, Epiretinal membranes, and Macular holes.
Greater Potomac Retina is accepting new patients and is able to accommodate consultations in a timely manner.
Dr. Patel is Board Certified by the American Board of Ophthalmology (ABO).
Dr. Patel completed Fellowship training at the University of Iowa, one of the nation's leading ophthalmic institutions.
Attention-to-Detail for Treatment & Surgery
Because of the specialized nature of our services, most of the patients seen in our offices have been referred to us by other eye care providers and physicians. Dr. Patel utilizes the most advanced therapies and surgical approaches, combined with an unfailing attention to consistency and detail, to provide the best treatment available and/or perform surgery for conditions such as:
Retinal Vascular diseases
Cataract Surgery Complications
Ocular Trauma
Uveitis
On the Leading Edge of Technology
Greater Potomac Retina has the latest diagnostic and therapeutic services, including:
Digital fundus (retinal) photography and fluorescein angiography
3-D Optical coherence tomography (OCT)
Digital B-scan ultrasonography
Electronic Medical Records
Laser photocoagulation
Eylea® (aflibercept), Lucentis® (ranibizumab) and Avastin® (bevacizumab) therapy for Age-related Macular Degeneration
We Keep Our Patients Informed
The practice places a great deal of value on patient education, by providing information on common diseases in print and on our web site. We work in conjunction with other eye care professionals and primary care physicians to provide our patients with comprehensive eye care while maintaining a focus on the entire systemic process.
Experienced Staff
Our staff pride themselves on delivering the highest level of patient care. They are experienced, well-trained and caring, all attributes that are vital in the treatment of our patients.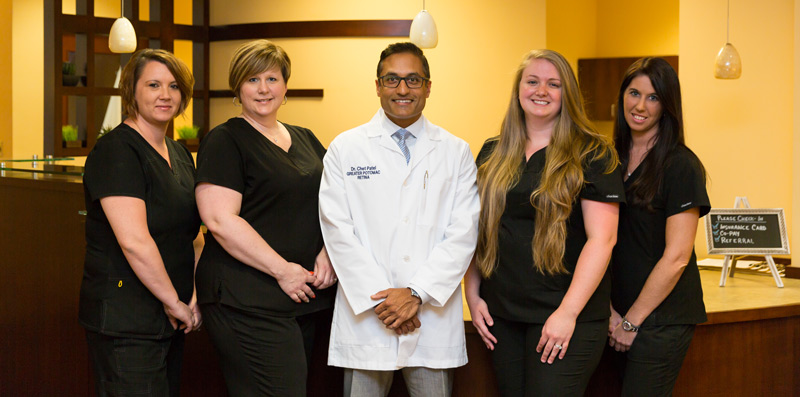 Easily Accessible Offices
The offices are easy to find, with two convenient locations in the region:
Frederick, Maryland
Gettysburg, Pennsylvania
See our office locations and print out a map to the office nearest you.